AirMobility Inc (Minato-ku, Tokyo, President & CEO: Hisashi Asai) is been developing Japan's first eVTOL navigation system, "AirNavi※1" . On December 14, 2021, a prototype of the system was mounted on a drone and demonstration tests were carried out in the Toba city, Mie Prefecture.
The demonstrations used a drone with the "AirNavi" navigation system for eVTOL as part of Mie Prefecture's "cre-mie-tive" demonstration support project※2.
"AirNavi" allows users to enter their destination, and then calculates the optimal route by taking into consideration various conditions such as weather data and information on the eVTOL vertiport (take-off and landing site).
In this verification experiment, the route data was uploaded to the drone controller, and it was verified that the drone would arrive at the destination safely and automatically.
In the future, we will continue to make improvements for practical use in eVTOL such as route changes based on real-time weather information, collision avoidance, and linkage with flight operation management systems, with the aim of realizing unmanned and manned flights in eVTOL after 2022, and using them in transportation services for spectators at the Osaka-Kansai Expo in 2025.
【Outline of the Demonstration Experiment】
■Background of the experiment
On November 4, 2020, AirMobility Inc. concluded a comprehensive agreement with Mie Prefecture, Tokio Marine&Nichido Fire Insurance Co.,Ltb.
The aim is to maintain and improve the quality of life in local communities and to create new businesses through the development of" eVTOL innovations.
As part of this initiative, a demonstration experiment of the "AirNavi" eVTOL navigation system developed by AirMobility Inc. was conducted using a drone in advance of the eVTOL.
■Details of the demonstration experiment
In this demonstration experiment, aerial routes were set up using the "AirNavi" application, and a drone was flown from the sea to a destination 60 meters in the air, approximately 2.7 km away.
We verified whether real-time weather information was displayed during the flight, and whether the navigation function, take-off/landing operation judgment, communication, and other functions worked without problems.
・Route setting image of the eVTOL Navigation System "AirNavi"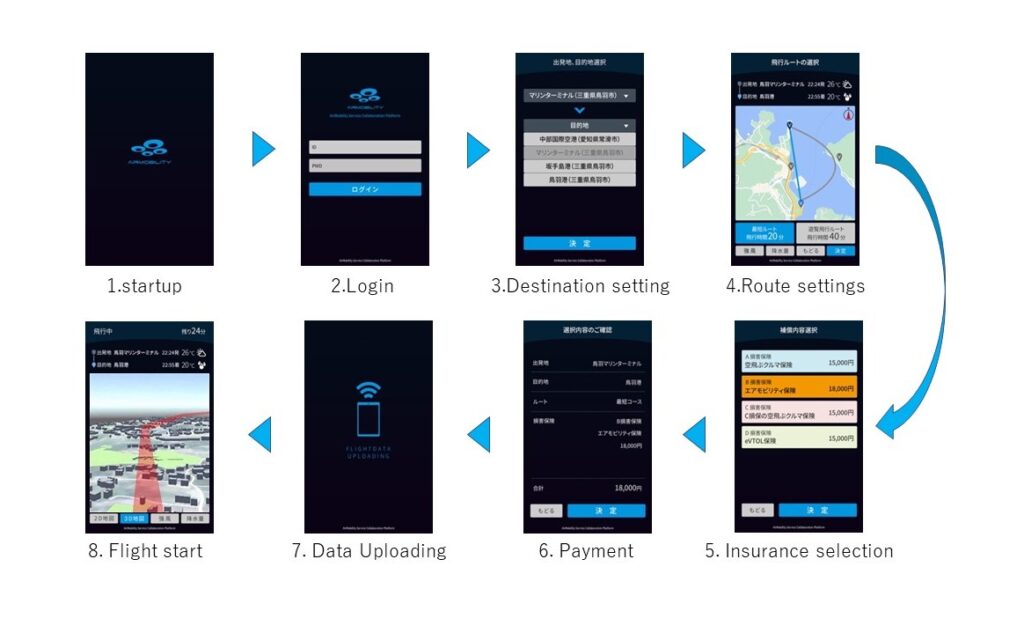 ■Demonstration test day
December 14, 2021 (Tuesday)
■ Place
Mie Pref.
Toba Marine Terminal Seagull Plaza – Health and Welfare Center Hidamari Temporary Parking Lot (approx. 2.7km)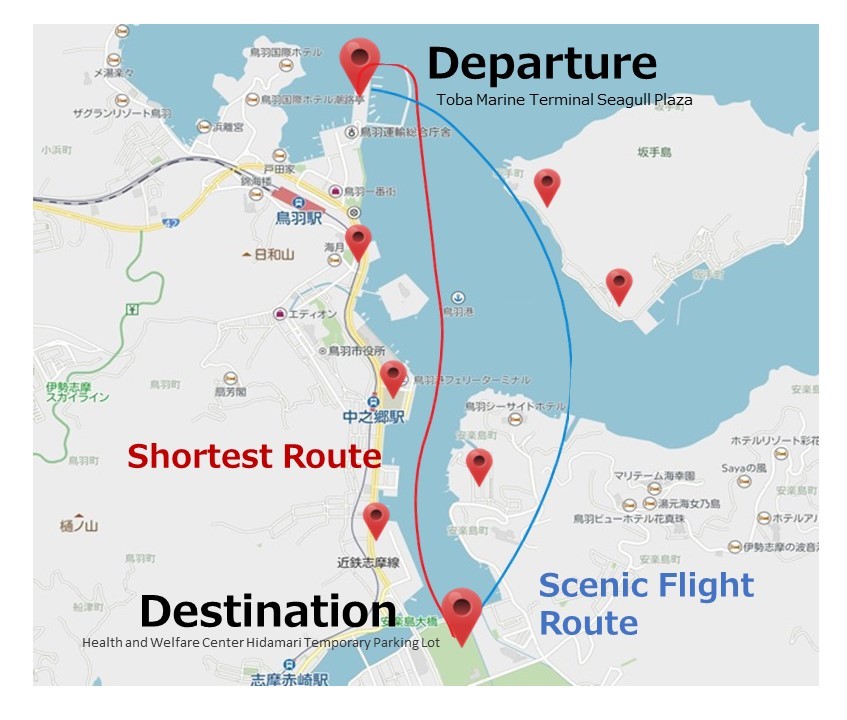 ※Can be selected from the shortest route or sightseeing route.
■Aircraft used
EAMS Robotics Co., Ltd. UAV-E6106MP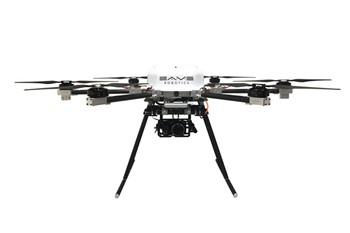 ※The goods transportation box is connected and equipped with a tablet for "AirNavi" application and communication devices.
■Companies cooperating in this demonstration project (in no particular order)
Mie Prefecture, Toba City (provision of take-off and landing sites)
Tokio Marine & Nichido Fire Insurance Co., Ltd. (provision of insurance)
Dynamic Map Platform Co., Ltd. (XYZ coordinate data provided)
Weathernews Inc. (providing weather information)
ZENRIN Co., LTD. (providing map data and 3D maps)
MITSUBISHI ELECTRIC Corporation. (GNSS receiver provided)
KDDI CORPORATION (Iridium GO!, LTE communication provision)
CHODAI CO.,LTD (survey of take-off and landing sites)
Eames Robotics Co.,Ltd. (drone provided)
Magellan Systems Japan, Inc. (Provision of a MICHIBIKI-compliant high-precision cm-class receiver)

・A briefing session on the demonstration experiment
※1 "AirNavi" is a eVTOL navigation system developed on the AirMobility Inc. "AirMobility Service Collaboration Platform" (ASCP), an infrastructure platform for the safe operation of airborne vehicles developed by AirMobility Inc. On top of this ASCP, the company plans to sequentially develop and deploy various services that will be required for future eVTOL, such as navigation systems and automatic departure/arrival systems.
※2 The Mie Prefectural Government is sponsoring a demonstration project called the "cre-mie-tive" which aims to establish a model for infection prevention measures and new lifestyles in Mie Prefecture ahead of other prefectures in Japan.With the spread of the new coronavirus infection, the way of thinking and working in the world is changing drastically, and the project is designed to support large companies and start-ups in Japan and abroad that are trying to solve new regional and social issues and realize a "new daily life" with innovative business models and technologies. (The program invites ideas from large corporations, start-ups (including second start-ups and new businesses), etc., both in Japan and overseas, who are trying to solve new regional and social issues arising from these trends and realize "new everyday life" with innovative business models and technologies, and provides support for development, demonstration experiments, and social implementation. URL:https://cre-mie-tive.jp/oi-details/index
【For inquiries regarding this matter】
Contact person: Motoi 
Tel: 03-6273-1288
Email: info@airmobility.co.jp