AirMobility Inc. exhibited at the "Nagasaki Digital DEJI-MA Industrial Messe 2023" on September 7 (Thu) and 8 (Fri) at the Dejima Messe in Nagasaki.
The "Nagasaki Digital DEJI-MA Industry Messe 2023" is an exhibition that promotes digital technology, drones, semiconductors, and more.
The 2nd Drone Summit and Nagasaki Semiconductor Industry-Academia Connect was also held, attracting over 3,850 visitors over two days. During the 2 days we were delighting to be visited at the stand by the vice governor of Nagasaki Prefecture.
On our booth at the exhibition, we promoted a scale model of the Dufour Aerospace (Switzerland) large drone "Aero2". The Dufour Aerospace drone is ideal for medical logistics, and we are delighted to support Dufour Aerospace as their distributors in Japan.
【Aero2 flight video】
https://drive.google.com/file/d/1nsVyCRBZMMMr2_TtwqSIUt7pMkMybADY/view?usp=sharing
In addition, we introduced our new "AirNavi" flying car navigation system, that we are developing, using the latest automatic route generation. (One of the main features of the route generation, takes into account height in 3D).
【"AirNavi" automatic route generation demo screen image】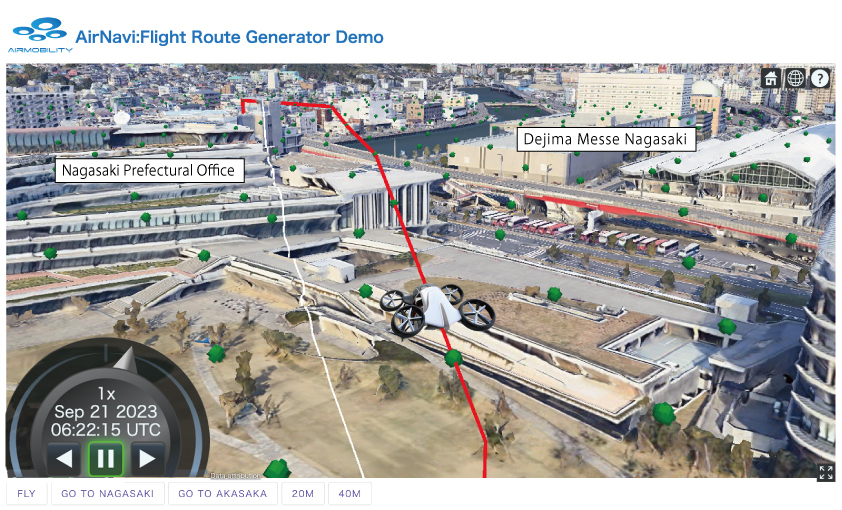 In addition we promoted our e-commerce site AeroMall (https://aeromall.jp/), the online portal connects eVTOL (flying car)/drone manufacturers and parts manufacturers, (opened in March, 2023), and we also presented AeroBuy, our comparison website offering industrial drones (https://aerobuy.jp/).
【For inquiries regarding this matter】